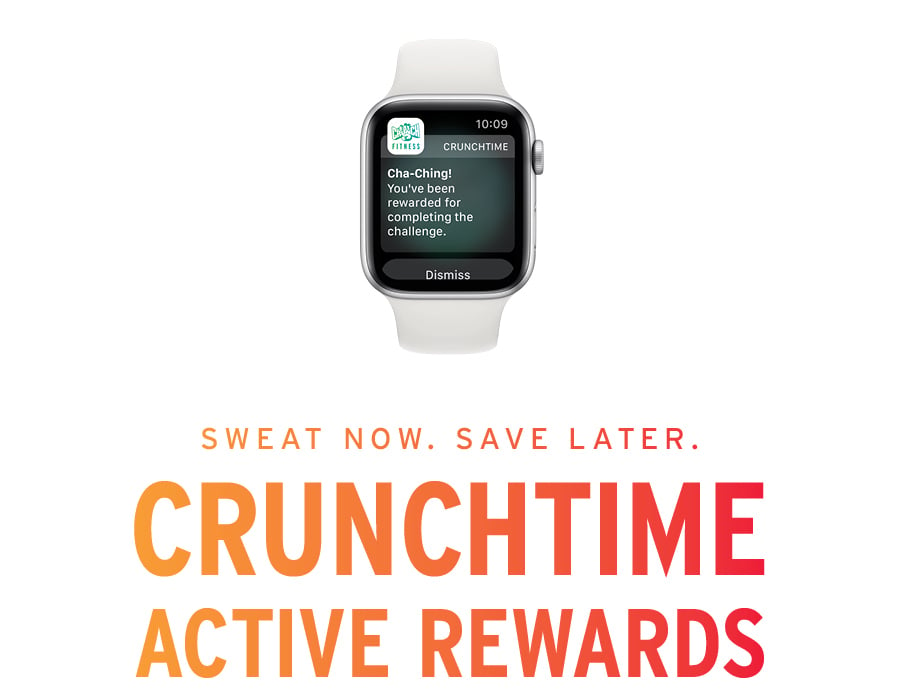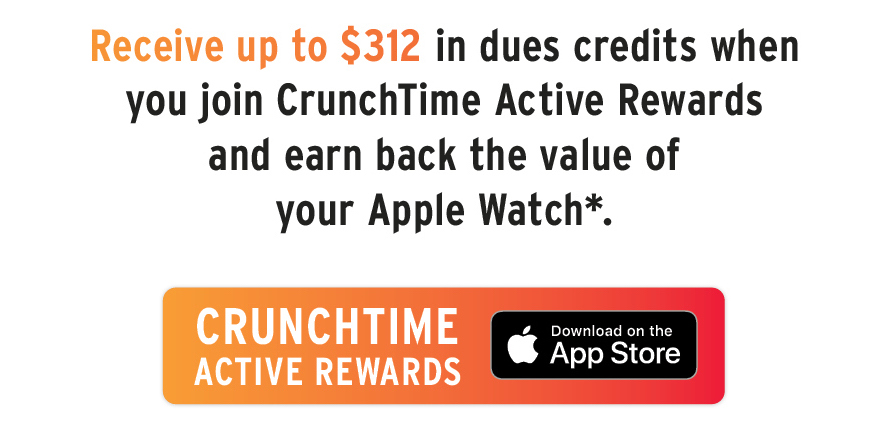 CrunchTime Active Rewards, a fitness program using Apple Watch designed to keep you motivated. With an eligible membership, you can receive up to $312 in dues credits when you join CrunchTime Active Rewards and earn back the value of Apple Watch.*
You've got nothing to lose and everything to gain. Join today.
How To Enroll in CrunchTime Active Rewards

1. Join Crunch With an Eligible Membership
Purchase an eligible All Crunch or City Crunch Membership to enroll in the CrunchTime Active Rewards Program.

Already an eligible member? Skip this step.
2. Buy Your Apple Watch

Buy your new Apple Watch. Apply to buy it with Apple Card.
Apple Card is a different kind of credit card, it has no fees1 at all and gives you up to 3% unlimited Daily Cash back on every purchase every day. See if you're approved with no impact to your credit score2.
Already have Apple Card or not interested? Skip this step.

Use Apple Card right away3 to complete your Apple Watch purchase.
Already have Apple Watch? Skip this step.

3. Join the Program
Download the CrunchTime Active Rewards App & start completing your weekly workout challenges to earn up to $312 in membership credits.



FREQUENTLY ASKED QUESTIONS
What type of activity data is used to measure progress in the CrunchTime Active Rewards app?
Active calories data as measured by Apple Watch are credited toward your challenges.
Can I make my Move goal on Apple Watch match my active calorie target?
If the Move goal on your Apple Watch doesn't match your active calorie target, you can update your Move goal.
Here's how:
Open the Activity app on your Apple Watch
Go to your rings, then firmly press the screen
Tap Change Move goal
Tap the plus sign (+) or minus sign (-) to increase or decrease the number of active calories for your daily Move goal
Tap Update when you're done
How do I sync my activity data, and how often should I sync my Watch to ensure I get credit for achieving my goals?
To sync your active calories data, simply sign into CrunchTime Active Rewards. We encourage you to do so every Sunday. Please note: All data must be synced and accounted for within six days of your challenge period ending in order for you to be properly credited.
How are my activity challenges determined? Can they change?
Your daily active calorie target is based on your weight (as it is recorded in the Health app). Your weekly activity challenge is dependent on your previous activity history – the more active you become, the more challenging your weekly challenges will be.
What data do I need to share to participate? How do I stop sharing my data?
In order to participate in the program, you must share your weight and Active Energy data via the Health app. Without access to these measures, CrunchTime Active Rewards will be unable to calculate your active calorie targets or your progress toward your goals. You can stop sharing your data at any time by opening the Health app and adjusting your settings under the sources tab.
When will my dues credit be reflected?
Your monthly dues for the month following the relevant challenge will have the deduction. If you do not see this deduction please email CrunchTime@crunch.com.
*Based on price of Apple Watch SE with sport band, GPS connectively, and 44 mm case for $309. Must enroll in Crunch Challenge rewards, which are determined weekly and if 104 challenges are completed over 104 weeks you can earn up to the maximum of $312 in Crunch membership dues credits. Valid on new standard retail All Crunch and City Crunch memberships activated on or after 16 December 2019. Excludes corporate, student, complimentary and paid-in-full memberships. Excludes discounted memberships from third party sources and partners. Membership must be in good standing. Valid only at New York-area & California Crunch signature locations.
Click here to read to Terms & Conditions.
1. Variable APRs for Apple Card range from 15.49% to 26.49% based on creditworthiness. Rates as of March 1, 2023.
2. Accepting an Apple Card after your application is approved will result in a hard inquiry, which may impact your credit score.
3. Subject to credit approval.
To access and use all the features of Apple Card, you must add Apple Card to Wallet on an iPhone or iPad with the latest version of iOS or iPadOS. Update to the latest version by going to Settings > General > Software Update. Tap Download and Install.
Available for qualifying applicants in the United States.
Apple Card is issued by Goldman Sachs Bank USA, Salt Lake City Branch.